Delivery Information
2022/6/12: All the express mail to Australia, Canada, France and the United States will ship into two or more parcels if the total weight of items exceeds the allowed maximum of 2KG.
All products ship from Hong Kong directly to your house.
There is no minimum amount for each order.
We will charge each order shipping rates. Shipping rates depend on the destination country, shipping method and the weight of the order. You can confirm the shipping rates after adding items to the shopping cart on our website.
Here is the instruction for checking the shipping rates and delivery time of your country:
After adding the items to the shopping cart, click 'VIEW CART' to the shopping cart then click 'Estimate Shipping & Taxes'.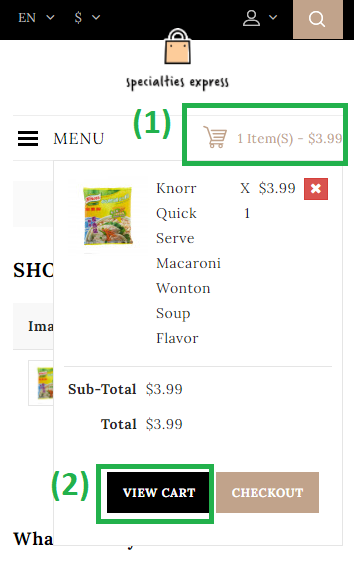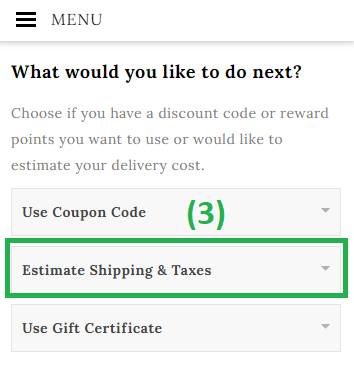 Select your country and click 'GET QUOTES', and then you will see the shipping method with shipping rates which is currently available to your country.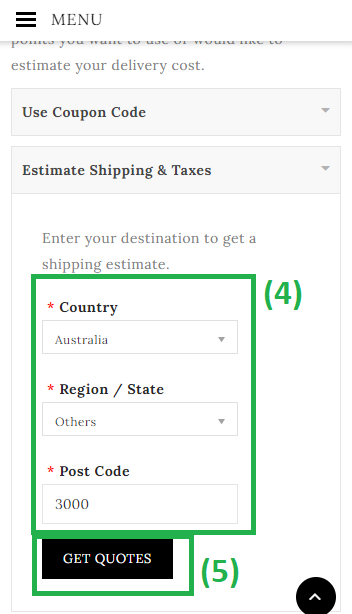 Tracking Shipment
Once the items shipped, we'll email you shipping information and parcel tracking web URL.
We offer delivery service to the following countries:
United States, Canada, Mexico, Brazil, France, Belgium, Germany, Netherlands, Switzerland, Luxembourg, United Kingdom, Ireland, Spain, Portugal, Denmark, Finland, Norway, Sweden, Iceland, Latvia, Poland, Austria, Hungary, Slovenia, Serbia, Turkey, Israel, Lebanon, Russia, Mainland China, Japan, Taiwan, South Korea, Macao, Viet Nam, Cambodia, Singapore, Malaysia, Thailand, Philippines, Indonesia, Australia, New Zealand and South Africa. Please contact us if you do not find your country in the list.
Shipping Day
Last Updated on 25 Jul 2021
↓ Scroll Horizontally to confirm the shipping table if you are using mobile device →


Hongkong Post: Air Parcel (Special)
Hongkong Post: Air Parcel
Hongkong Post: Surface Mail (Small Packet)
Hongkong Post: Surface Mail
Hongkong Post: Express Mail Service
FedEx
Australia (others)
7-14 Days
7-14 Days
29-43 Days
29-43 Days
1-7 Days
4-5 Days
Australia (WA)
7-14 Days
7-14 Days
29-43 Days
29-43 Days
1-7 Days
4-5 Days
Austria
7-14 Days
7-14 Days
25-45 Days
25-50 Days
1-7 Days
4-5 Days
Belgium
7-14 Days
7-14 Days
44-53 Days
44-53 Days
1-7 Days
4-5 Days
Brazil
Temporary Suspension
Temporary Suspension
Temporary Suspension
35 Days
Temporary Suspension
4-5 Days
Cambodia
Temporary Suspension
Temporary Suspension
20-50 Days
20-50 Days
Temporary Suspension
4-5 Days
Canada
Temporary Suspension
Temporary Suspension
40-70 Days
40-70 Days
1-7 Days


*Maximum Weight: 5 KG

4-5 Days
China, Mainland (Beijing)
7-14 Days
8-18 Days
9-60 Days
10-68 Days
1-7 Days
4-5 Days
China, Mainland (Fuzhou)
7-14 Days
8-18 Days
9-60 Days
10-68 Days
1-7 Days
4-5 Days
China, Mainland (Guangdong Province)
7-14 Days
8-18 Days
9-60 Days
10-68 Days
1-7 Days
4-5 Days
China, Mainland (Hangzhou)
7-14 Days
8-18 Days
9-60 Days
10-68 Days
1-7 Days
4-5 Days
China, Mainland (Kunming)
7-14 Days
8-18 Days
9-60 Days
10-68 Days
1-7 Days
4-5 Days
China, Mainland (Other area)
7-14 Days
8-18 Days
9-60 Days
10-68 Days
1-7 Days
4-5 Days
China, Mainland (Shanghai)
7-14 Days
8-18 Days
9-60 Days
10-68 Days
1-7 Days
4-5 Days
China, Mainland (Tianjin)
7-14 Days
8-18 Days
9-60 Days
10-68 Days
1-7 Days
4-5 Days
China, Mainland (Wenzhou)
7-14 Days
8-18 Days
9-60 Days
10-68 Days
1-7 Days
4-5 Days
China, Mainland (Xiamen)
7-14 Days
8-18 Days
9-60 Days
10-68 Days
1-7 Days
4-5 Days
Croatia
Not Available
11-16 Days
55-80 Days
60-85 Days
1-7 Days
4-5 Days
Denmark
7-14 Days
7-14 Days
50-58 Days
51-62 Days
1-7 Days
4-5 Days
Finland
7-14 Days
8-9 Days
54-68 Days
54-70 Days
1-7 Days
4-5 Days
France
7-14 Days
7-14 Days
41-52 Days
41-52 Days
1-7 Days
4-5 Days
Germany
7-14 Days
7-14 Days
38-42 Days
38-42 Days
1-7 Days
4-5 Days
Hong Kong
Not Available
Not Available
Not Available
Not Available
Not Available
Not Available
Hungary
7-14 Days
7-14 Days
Temporary Suspension
35-50 Days
1-7 Days
4-5 Days
Iceland
Temporary Suspension
Temporary Suspension
Temporary Suspension
Temporary Suspension
Temporary Suspension
4-5 Days
India
Not Available
Not Available
30-50 Days
30-50 Days
Not Available
4-5 Days
Indonesia
7-14 Days
10-25 Days
24-67 Days
24-67 Days
1-7 Days
4-5 Days
Ireland
Temporary Suspension
Temporary Suspension
49-60 Days
49-60 Days
1-7 Days
4-5 Days
Israel
Temporary Suspension
Temporary Suspension
42-56 Days
42-56 Days
Temporary Suspension
4-5 Days
Italy
Not Available
Temporary Suspension
25-60 Days
25-60 Days
2-14 Days
4-5 Days
Japan
7-14 Days
Temporary Suspension
45-60 Days
45-60 Days
1-7 Days
4-5 Days
Japan (Ryukyu Islands)
7-14 Days
Temporary Suspension
45-60 Days
45-60 Days
1-7 Days
4-5 Days
Korea, South
7-14 Days
Temporary Suspension
21-45 Days
21-45 Days
Temporary Suspension
4-5 Days
Latvia
Temporary Suspension
Temporary Suspension
Temporary Suspension
Temporary Suspension
Temporary Suspension
4-5 Days
Lebanon
Temporary Suspension
Temporary Suspension
Temporary Suspension
Temporary Suspension
Temporary Suspension
4-5 Days
Luxembourg
7-14 Days
9-12 Days
30-45 Days
30-45 Days
1-7 Days
4-5 Days
Macau
7-14 Days
Temporary Suspension
2-5 Days
3-6 Days
1-7 Days
4-5 Days
Malaysia (Peninsular)
Temporary Suspension
Temporary Suspension
19-40 Days
23-45 Days
1-7 Days
4-5 Days
Malaysia (Sabah)
Temporary Suspension
Temporary Suspension
19-40 Days
23-45 Days
1-7 Days
4-5 Days
Malaysia (Sarawak)
Temporary Suspension
Temporary Suspension
19-40 Days
23-45 Days
1-7 Days
4-5 Days
Mexico
7-14 Days
12-17 Days
Temporary Suspension
Temporary Suspension
1-7 Days
4-5 Days
Netherlands
7-14 Days
7-14 Days
29-33 Days
29-33 Days
1-7 Days
4-5 Days
New Zealand
Temporary Suspension
Temporary Suspension
39-47 Days
40-51 Days
Temporary Suspension
4-5 Days
Norway
7-14 Days
7-14 Days
47 Days
47 Days
Temporary Suspension
4-5 Days
Philippines
7-14 Days
7-14 Days
30 Days
30 Days
1-7 Days
4-5 Days
Poland
7-14 Days
7-14 Days
50-60 Days
50-60 Days
1-7 Days
4-5 Days
Portugal
7-14 Days
7-14 Days
53-67 Days
55-79 Days
1-7 Days
4-5 Days
Russian Federation
Temporary Suspension
Temporary Suspension
Temporary Suspension
Temporary Suspension
Temporary Suspension
4-5 Days
Serbia (Republic of)
7-14 Days
11-12 Days
Temporary Suspension
65-95 Days
1-7 Days
4-5 Days
Singapore
7-14 Days
10-11 Days
Temporary Suspension
12-16 Days
1-7 Days
4-5 Days
Slovenia (Republic of)
7-14 Days
12 Days
Temporary Suspension
Temporary Suspension
1-7 Days
4-5 Days
South Africa (Republic of)
Temporary Suspension
Temporary Suspension
Temporary Suspension
Temporary Suspension
Temporary Suspension
4-5 Days
Spain
7-14 Days
7-14 Days
30 Days
30 Days
1-7 Days
4-5 Days
Sweden
7-14 Days
7-14 Days
54-65 Days
54-65 Days
1-7 Days
4-5 Days
Switzerland
7-14 Days
7-14 Days
38-42 Days
38-42 Days
1-7 Days
4-5 Days
Switzerlands
7-14 Days
7-14 Days
38-42 Days
38-42 Days
1-7 Days
4-5 Days
Taiwan
Not Available
6-9 Days
40-60 Days
40-60 Days
1-7 Days
4-5 Days
Thailand
7-14 Days
9-15 Days
22-38 Days
24-42 Days
1-7 Days
4-5 Days
Turkey
7-14 Days
11-18 Days
Temporary Suspension
Temporary Suspension
1-7 Days
4-5 Days
United Kingdom
7-14 Days
Temporary Suspension
42-54 Days
42-54 Days
Temporary Suspension
4-5 Days
USA (Hawaii)
7-14 Days
Temporary Suspension
60-90 Days
60-90 Days
1-7 Days
4-5 Days
USA (New York)
7-14 Days
Temporary Suspension
60-90 Days
60-90 Days
1-7 Days
4-5 Days
USA (other States)
7-14 Days
Temporary Suspension
60-90 Days
60-90 Days
1-7 Days
4-5 Days
Vietnam
7-14 Days
12-14 Days
19-40 Days
21-40 Days
1-7 Days
4-5 Days
↑ Scroll Horizontally to confirm the shipping table if you are using mobile device →